There are many products on the market that do not have authenticity- either they are illegally imported or manufactured. Our goal at Powergenx is to provide our customers with authentic products and brand experiences that meet their needs. With meticulous action plans, we ensure quality throughout sourcing and distribution.
Using fake supplements can damage your health and affect your body development as they contain substitute elements, banned substances, and cheaper ingredients. Taking complete responsibility for products as an authorized seller, we package and ship your orders as soon as they leave the warehouse.
As Powergenx, we regard our supreme packaging as the front door to quality, demonstrating the genuineness of our products. All of our products are 100% authentic and we adhere to stringent quality standards. In order to best serve our esteemed customers, we adopt the finest manufacturing policy.
Powergenx realizes that the current landscape of the fitness and wellness sector is quite messy. We offer international aligned products to our customers. In addition to controlling Babylon dealers who sell shoddy products for a small price, we also source products directly from the authorized importers.
The majority of supplements sold in India are unlikely to be true – they are either parallel imports or fakes. It is possible for fake supplements to contain banned substances, such as steroids, which may damage your body permanently.
During the sourcing and distribution of our supplements, we maintain tight quality control. Powergenx is committed to providing 100% authentic products to our customers. If you are dissatisfied with the quality of the product, we offer our customers a 30-day return policy.
The Powergenx brand offers you world-class health supplements that can help you reach your optimal health. In comparison, too high health supplement prices make it difficult for users to purchase them.
The original products are hard to find today because they have already been replaced by fake products in the form of powders, supplements, and pills. In today's market, customers are confused by the sheer number of options available. Parallel imports from developed nations, on the other hand, take priority.
Imported goods are subject to more than 50% customs duty. Customers are charged twice in order to obtain the legitimate product, which makes no sense. In cases where labels are illegally imported and sources are not indicated, quality is always an issue. A non-authorized product leaves questions about its authenticity.
Powergenx offers customers quality, premium products at reasonable prices and is transparent in its manufacturing. Powergenx is committed to delivering supplements that will fulfill your nutritional deficiencies. A high level of quality assurance is extremely important to us, and we adhere to our quality management system properly.
Our company strives to provide high-quality health solutions to users across India and to conduct business in a transparent manner. We maintain our competitive position with our impeccable business performance and optimal healthcare solutions as a leading authorized dealer of nutritional products.
All of our products are subjected to multiple stages of research and development, and we use ingredients selected for their health benefits. We deliver science-backed health products that can deliver great results. That is our daily and consistent goal.
It means that if you purchase an unauthorized product, you might be lucky enough to get an authentic item, but one in five people are likely to receive a fake item, which may contain banned substances, such as steroids, and put you at risk of causing physical harm to yourselves. At Powergenx, we strive to provide our customers with 100% authentic products by maintaining the following:
Maintaining tight control over the supply chain
The quality control process is carried out during the distribution
You can return the item within 30 days without hassle
Our customers are provided with accurate expiry information when they purchase our products.
Also, we do not sell products close to expiration (within the last three months for most of the brands) until they have been explicitly purchased by customers.
Our warehouse maintains tight quality control, ensuring that only high-quality products are shipped to our customers.
Among the logistics partners that we use are FedEx, Blue Dart, etc.
Authorized Dealership Certificate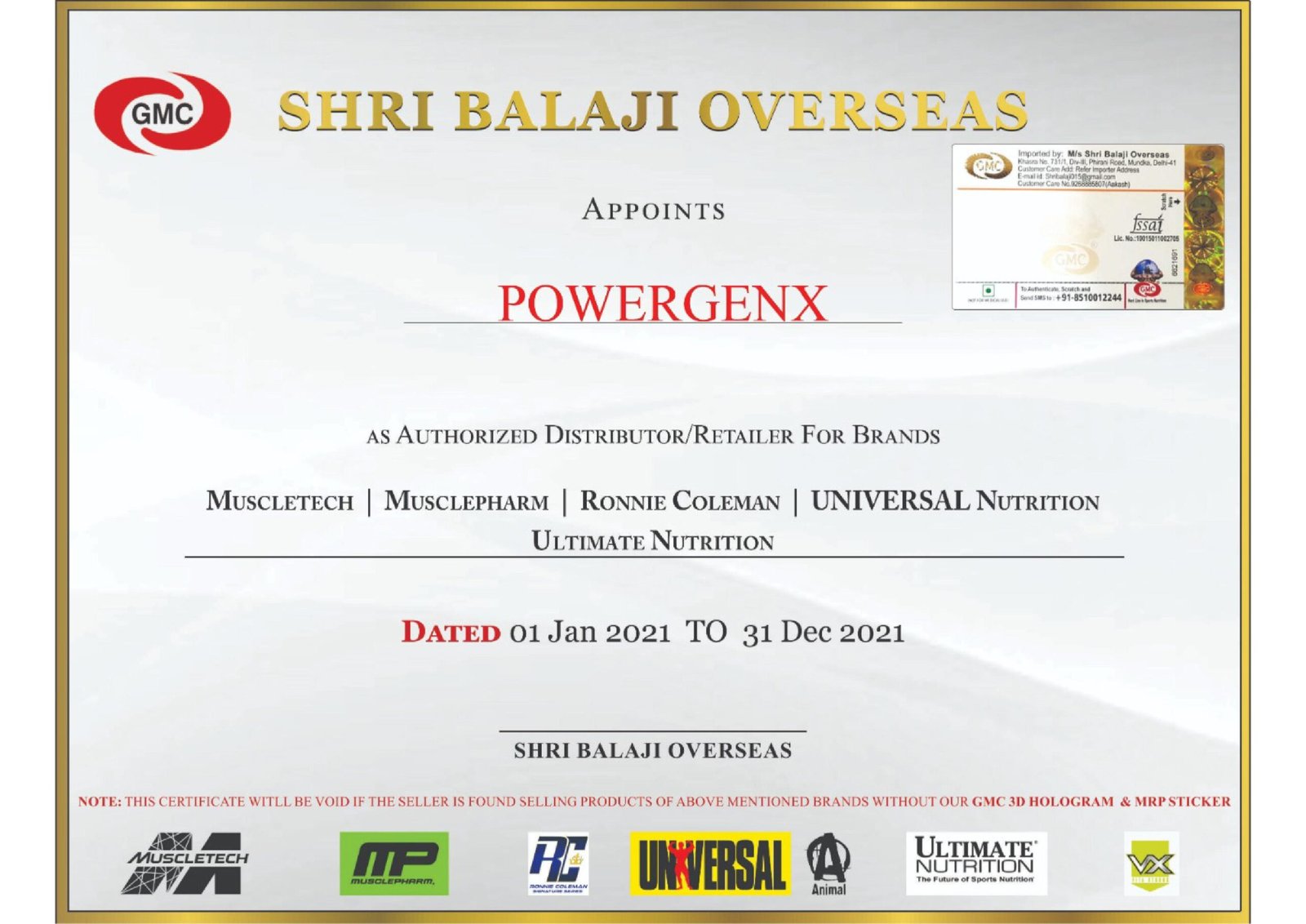 Authorized Dealership Certificate
Authorized Dealership Certificate